Post by Steeven on Feb 7, 2023 11:47:31 GMT -6
LONG STORY SHORT
I need to take another break from podcasting.
Effective immediately.
Hopefully I won't be gone too long, but that's going to depend on how quick I can learn something new or figure something out.
At the most, I'll be back on March 6th.
At the least, I'll be back tomorrow.
We will just have to see.
LONG STORY KINDA SHORT
The digital software, or DAW (Digital Audio Workstation), I use to record and edit podcast episodes has been failing me the last few days.
I'm super frustrated and feel like I need to learn how to use a different program before I can start podcasting again.
I have a copy of Reaper and so I suppose that I'll go with that.
The problem, however, is that I tried to learn Reaper before, but quit because it was all too new and unfamiliar and really very hard.
Now I don't know that I have a choice.
Except… I have something I want to try today with my regular DAW and, well, if it works, I'll be back very soon
THE WHOLE DANG STORY
I've been having some issues with Audacity lately.
If you aren't sure what Audacity is, well:
Audacity is a free and open-source digital audio editor and recording application software, available for Windows, macOS, Linux, and other Unix-like operating systems.
That is, according to Wikipedia.
For me, Audacity is what I've used for the last 17 years to create podcast episodes.
The last few days, however, have been incredibly frustrating.
This past weekend, I had hoped to get both Monday's episode of The Superman Super Show, and today's episode of Just Another Fanboy edited and scheduled for release.
I started with The Superman Super Show Episode #40 on Friday night.
There are various things I do to clean up the audio before I even go in to manually remove unwanted sounds. We will call this process the Pre-Mix.
Pre-Mixing can take a few hours. It's mostly automated, but some of the processes I run take so long that I have to do just 5 - 10 minutes of audio at a time, otherwise the entire house will explode.
Anyway, I could really get in to the minutia of what I do to put a show together, and frankly, if you ever want me to do that, just let me know, but I won't get too far into all that today.
But, Friday was spent with the whole pre-mixing thing.
On Saturday, the plan was to finish up The Superman Super Show Episode #40 (SMSS40), and then get it uploaded and scheduled. After that, I could get Just Another Fanboy Episode #308 started and do all the pre-mixing for it so that I could finish it up Sunday morning and get it uploaded and scheduled.
But then it happened.
I had finished everything, EVERYTHING, with SMSS40. I had just a few steps left.
1. Export the final edit as a WAV.
2. Open the WAV file and level the total volume of the episode.
3. Export the WAV as an MP3.
Those three steps take less than 5 minutes and when that's done, I have an episode ready to upload and schedule.
And yet, as the final edit was exporting to a WAV (Step 1), Audacity shut down.
No warning. One moment I'm watching the status bar telling me that there was about 1 minute left in the process, the next moment it was gone and I was looking at the desktop.
So, I rebooted and opened Audacity back up. I then tried to open the Audacity file of the final edit, but instead of the file opening, I got an error message.
The file was corrupted.
In other words, I lost the final edit.
I would have to start over.
But here's the thing, I wouldn't have to do the pre-mixing again because when I pre-mix an audio file I save it as a WAV when I finish
For example, with The Superman Super Show, Ed's audio is a separate file and my audio is a separate file. Well, when I pre-mix one of those files, I save it as a WAV, and those were still there and I could pull them up with no problems.
It was just that final file, the one that has all of the audio tracks brought together, which is an Audacity file.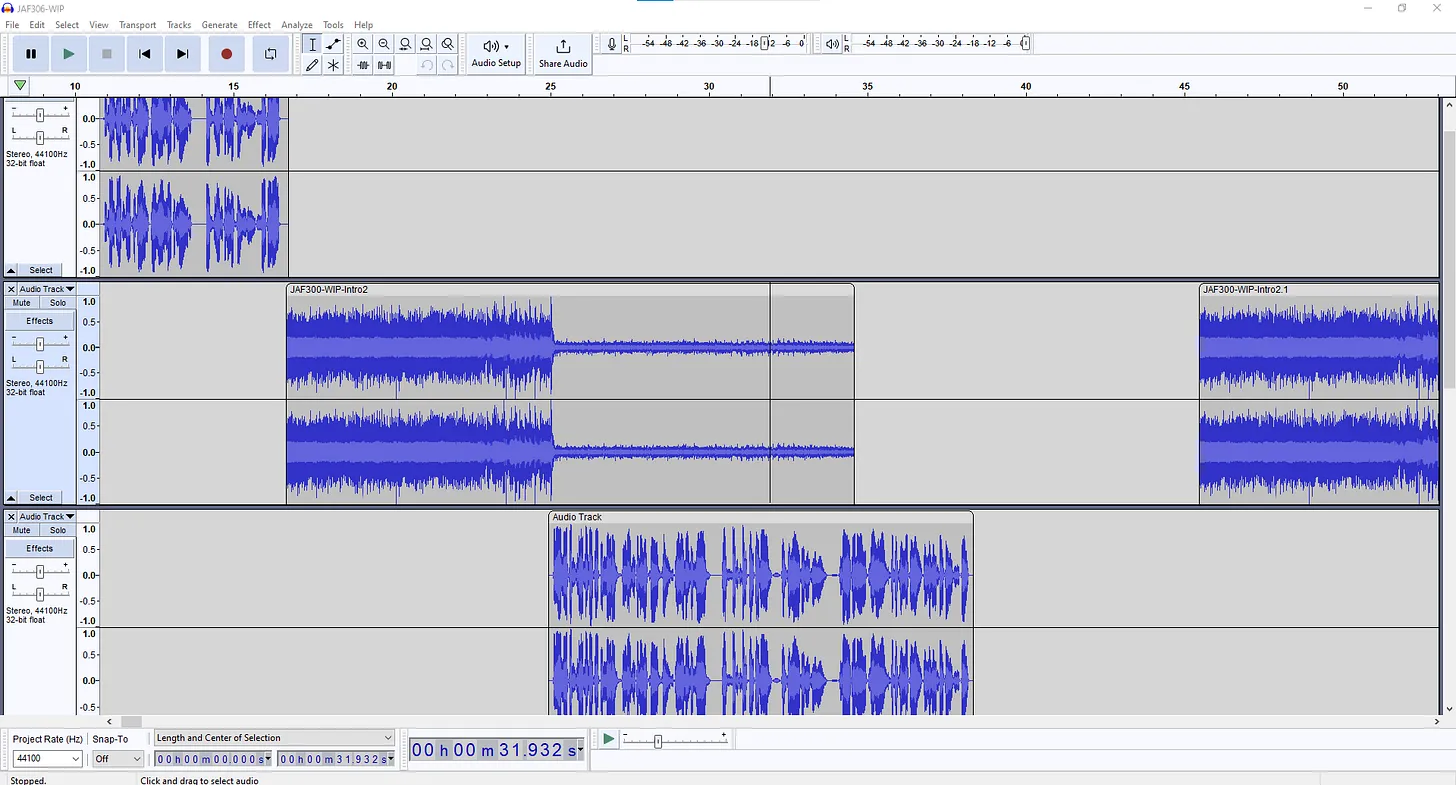 But, I still had to synch those two audio tracks together, add the music, and listen to the episode so that I could remove unwanted noises and such before I could do those final three steps.
Now, before I go any further, I should say that while I do all this on a laptop, everything is run from a external hard drive.
Well, I thought that the reason Audacity suddenly closed in the first place meant there was a problem with the drive. So, to be safe, I did a back up and began to use a new external drive going forward, in case there was something wrong with my regular external drive.
I finished all that on Saturday evening and I figured I'd start fresh Sunday morning.
On Sunday, I took those pre-mixed files, and rather than sync them together, add music, and then do the final pass where I remove unwanted noises; I instead did that final pass on Ed's file, then my file, saving each one as a new, updated WAV file.
That way, all I had left to do was sync them up, add the music, and export that into the final WAV.
So that's what I did. Except, during that final export, I get an error telling me that now this file was corrupted.
Well, I was so angry I wanted to punch a goat.
But, really, most of the heavy lifting was done. I still had all of the final edit WAVs of each bit of audio: Ed's audio, my audio, intro music, and outro music. It was just when I put them all together and tried to export all of that into one file that the crap would hit the fan.
So, I tried something a little different. I have a copy of Reaper, which is another DAW, and one that I am constantly told is far superior than Audacity, and maybe it is. I've tried to learn how to use it, however, and it is so different than Audacity that it became overwhelming and so I stopped.
But I had no choice this time. All I needed to do was figure out how to use Reaper to take all the separate audio files, put them together, and then export it all to one WAV file so that I could do those final 2 steps I listed out above.
It took some playing around, but I figured it out and managed to export it and all that.
Steps 2 and 3, however, I couldn't figure out how to do in Reaper, so I took a chance and tried those steps in Audacity, and it worked!
WHEW!
The Superman Super Show Episode 40, was done.
The last thing I did on Sunday, before hitting the hay, was to upload it and schedule it.
I then went to bed feeling that my Audacity problems were over.
On Monday (yesterday), I began to work on Just Another Fanboy Episode 308.
I did the pre-mix, then put everything together, then listened to the whole episode and removed unwanted noises and mistakes and all that.
I was feeling pretty good.
Then, as I was exporting that final edit into a WAV file, Step 1 from the above list, it happened.
I got that error telling me that now THIS file was corrupted.
At that point I was ready to give up on Podcasting altogether.
Instead, I walked away, listened to music really loud, and pulled myself together.
I decided at that point that I couldn't trust Audacity anymore… oh, by the way, I should also mention that on Saturday, when this first happened, after I did the full back up, I also updated Audacity to the newest version, and that obviously didn't help.
Anyway, I couldn't trust Audacity anymore, and that meant I had to, HAD TO, learn how to use Reaper.
So I sat down last night with a bunch of video tutorials and with an hour found myself completely confused and overwhelmed.
Feeling sad I shut it all down and went to bed.
Today, however, is a new day.
As I woke this morning, I was suddenly hit by a memory from last night. While I had been researching what to do with a corrupted Audacity file, I had run across something on a forum that mentioned that sometimes these files can become corrupted if your computer shuts down in the middle of an export.
Well, my laptop didn't shut down, but, what if, because those exports can take up to 10 minutes, what if the external drive I was exporting to suddenly couldn't be found by the laptop for a few seconds before it connected again.
I've seen that happen before and that would explain why switching to a new drive didn't work and why updating Audacity to the newest version didn't work,
But why would this suddenly start happening after years of using Audacity with no problems?
Well, I've also been having issues with my laptop recently, so that may account for it.
So, this is what I'm going to try today:
I'm going to use Audacity today to try and put another episode together, but this time, I'll do it all off the laptop drive other than the external drive that plugs into the USB port.
If it works, and I'm able to fully create a final episode, at that point I'll move it all to the external drive.
If it doesn't work, then yeah, I'll have no choice… I will have to learn how to use Reaper.
Wish me luck.